Starting Today: Get Free Shipping and Lowest Price Guarantee (Only with us!)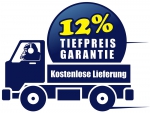 We Berliners like to say that we're "poor, but sexy." Now, with our free delivery, you can skip the first part! For our even thriftier friends, we also offer the professional radio devices and personal tour guide systems in our catalogue with a 12% lowest-price guarantee.
Free delivery and pickup? Huh??
You heard right – starting immediately, with Funkgeräte-Vermietung.de, pick up and delivery are now absolutely free. We now offer free delivery and pick up anywhere in Germany, Austria, and Poland – and even the UK! No minimum purchase, no limits, and applicable to both rentals and purchases of radio equipment! As always, timely delivery will be made by TNT Overnight and within Berlin via bike messenger. The only thing different is the price – now it's free!
What about your lowest-price guarantee? Hasn't Fungeräte-Vermietung.de always been a great value?
You're right about that – and we're proud of it! However, we've made a commitment to our very most budget-conscious customers – Scots, Swabians, and film producers – to help them take advantage of our high-end equipment and great service, because we believe they deserve it just as much as anyone else. Our 12% lowest-price guarantee means that if you find a comparable offer, we will either beat it by 12% or pay 12% of the competitor's contract price.
No fine print – you can read everything about our 12% lowest-price guarantee here.
https://www.funkgeraete-vermietung.de/Tiefpreisgarantie.html
For more information, please contact us as usual on our free hotline at  00800/118800400 or by email at mail@funkgeraete-vermietung.de
We'll see you there!

Download as PDF