Lowest Price Guarantee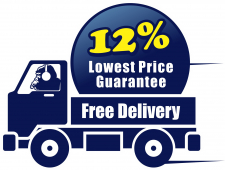 What does Radio-Rental.com's Lowest Price Guarantee promise?
It means that if you find a better deal on the same products or services from one of our competitors, we'll either beat their price by 12%, or give you 12% of their offer's value – in cash!
In the latter case, you are of course free to take the cheaper offer and won't be subject to cancellation fees for delivery or anything else. Spreenauten GmbH is solely responsible for deciding how to apply our 12% Lowest Price Guarantee.
How can I claim my 12% Lowest Price Guarantee?
Claiming your 12% Lowest Price Guarantee is actually quite simple. Read below to see if it applies to you.
Does the Lowest Price Guarantee also apply to companies who rent or buy from you?
Yes, our Lowest Price Guarantee is applicable to both private and commercial clients.
Does the Lowest Price Guarantee apply to purchases, radio equipment rental, and services alike?
Yes, whether you're buying radios from us, renting them, or simply using our services, our Lowest Price Guarantee applies. Our Lowest Price Guarantee also applies to all our radio products and services, including radios, repeaters, batteries, headsets, audio tour systems, wireless microphones, megaphones, as well as the accessories that go along with any of the aforementioned things.
Is there an upper limit?
Yes, we limit our Lowest Price Guarantee to contracts worth up to €1000 (net).
Does the offer need to be current and for identical products?
Yes, the offer must be valid – we need to be able to confirm it with our competitor. It must also concern identical products or services.
Check, check, and CHECK! All these apply to me. What do I do now?
This part is simple: just email the competing offer to us. This must be done by 11:00AM on the date of shipping, otherwise we consider the offer no longer valid, and cannot apply our Lowest Price Guarantee. The shipping date is normally one business day before delivery; e.g. a Monday delivery will ship on Friday.
Is this a special promotion, or is the Lowest Price Guarantee a standing policy?
Currently, our Lowest Price Guarantee promotion has no end date, though we reserve the right to make adjustments to it at any time. So, until further notice, yes, the Lowest Price Guarantee is a standing policy. The same policies naturally bind any offers we make during our Lowest Price Guarantee promotion. This is also the case if a contract's date of execution falls outside the time period when the Lowest Price Guarantee applies.

Download as PDF