Motorola two-way radios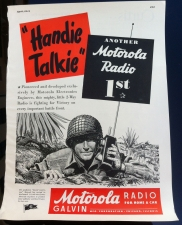 Radio-Rental.com – we work with the best. This is also and especially true of our equipment; for this reason, Motorola two-way radios are found exclusively in our rental park.
Motorola two-way radios – their advantages:
Motorola - professional two-way radios for over 50 years
Founded in 1928, Motorola is a renowned manufacturer of mobile communication, electronic components and two-way radios with a broad base in the civil and municipal sectors. The police, fire department and technical emergency service almost always use Motorola exclusively.


Motorola two-way radios - Robust technology
Whether rock `n´ roll concerts, lorry transport, road shows, film productions, or the harsh environment of a building site – Motorola two-way radios are among the most robust technology that you will find yourself fitted out with. Protected against splashing water, with thick housing and integrated shock absorber: these are just some of the features that guarantee Motorola two-way radios a long life, even under the toughest conditions.


Outstanding voice quality
From the beginning, Motorola focussed its attention on outstanding voice quality when it came to two-way radio communication. The introduction of X-PAND technology and the more precise audio reproduction in the newly-introduced digital two-way radios continues this development.


Constant technical innovation
Motorola stands for state-of-the-art two-way radios, which we are delighted to provide you with. Digital two-way radios from the MOTOTRBO series - Radio-Rental.com offers the Motorola DP3400 and the Motorola DP3600 from this range; the development of XPAND technology for better voice quality and more are part of this innovation.


Universal possibilities for use
Two-way radios from Motorola are used in many different applications.The police, fire department, military, security services, film productions, building sites, festivals and, of course, event technology: Motorola two-way radios have been the standard since the beginning of radio communication.


Worldwide service
Europe, Asia, America, Australia and, of course, Africa - Motorola has a worldwide presence and provides an internationally well-known premium service that Radio-Rental.com is also committed to.
We have been renting Motorola two-way radios for more than 10 years.
Radio-Rental.com | hire Motorola radio equipment: Professional. Fast. Reasonable.
P.S. more about Motorola and the Motorola two-way radio range can be found at Wikipedia: http://en.wikipedia.org/wiki/Motorola
Motorola provides an excellent overview of the Motorola two-way radios on offer at Radio-Rental.com, at the following link:
http://www.motorola.com/Business/XC-DE/Business+Product+and+Services/Two-Way+Radios+-+Licensed

Download as PDF