Radio-Rental.com – we deliver overnight!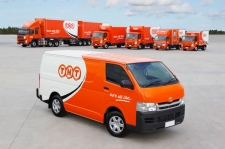 We deliver two-way radios and accessories exclusively with our logistics partner TNT – and we collect them from you again one day after production ends, or directly at the end of use.
We do not calculate delivery days (so-called rolling days)!
For over 10 years we've been successfully cooperating with our carrier and so can process short-notice requests for next day deliveries, made and confirmed by 17:00.
Renting two-way radios in Cologne?Need radio rental in London, Munich, Barcelona or Madrid? And in just 24 hours?It's no problem for us or our logistics partner, TNT.
Emission-free delivery in Berlin
In Berlin, we've been delivering our two-way radios emission-free since 01/07/2011 with the bicycle courier collective "Fahrwerk". Quick delivery, and good for the environment: Two-way radios by Radio-Rental.com
Radio-Rental.com & TNT - our USP:
Maximum reliability
Excellent value for money
Overnight delivery in Germany
Delivery Europe-wide in max. 2 work days
Online tracking of where your two-way radios are presently located.
Some tips and requests concerning delivery and collection:
We deliver exclusively in protective packaging
On receipt please check that the sealing of the cases and suitcases is intact
We deliver cases and suitcases with combination locks
we inform you of the codes again before dispatch
Please re-seal the transport containers with the enclosed cable ties before collection
Please lock suitcases and cases where this is possible with the integrated (or enclosed) combination lock.
Deliveries from Radio-Rental.com are in protective packaging and naturally door to door, directly to the home or company.To avoid transportation damage, we ask you to place the two-way radios back into their intended individual bags. Many thanks!

Download as PDF