Security Headsets
We are investing in new security headsets for the Motorola GP344. Maximum
discretion alongside excellent voice reproduction: Our new Motorola
security headsets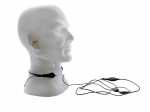 Radio-Rental.com are investing in new security headsets for the Motorla GP344. The GP344 is the smallest and therefore the most inconspicuous two-way radio in our rental park. Both the size and the excellent technical features make it the preferred walkie talkie of security services.
As of now, we can also offer you security headsets with voice capture from the voice box. These headsets are ideal for use in the area of security and boast the following features:
The features of the voice box security headsets:
Direct voice capture from the throat's exterior
leading to excellent voice reproduction in loud surroundings
Earpiece
Just like with the classical security headset –  the sound input occurs through an earpiece with this headset, this is connected to the headset
by a transparent air tube
remote microphone
clipped to the collar or sleeve of the shirt
Security headsets of this type were development for professional personal security and for military use. As of now, you can rent these from us at a current rental price of 3.00€ (net) a day.
Light. Professional. Discreet – the security headsets at Radio-Rental.com

Download as PDF