Radio-Rental.com relaunched!
Today we are celebrating our new freshly-designed website.
Radio-Rental.com with lots of new information and functions.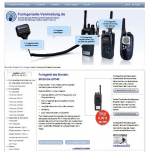 About time too – after over 4 years we have relaunched our website with wonderful support from our colleagues at the Advertising Agency Berlin (Werbeagentur Berlin) – web design and development. Besides the new design and the many new sub-pages offering more comprehensive information about us and our equipment (e.g. the Motorola GP340), we have also implemented the following new functions:
Online two-way radio configurator
Team page
Two-way radio of the month
Two-way radio overview
Headset overview
RSS feed
Over the next 14 days is may come to some bug or other, which we will immediately fix. A few spelling mistakes will also surely be found on our new Radio-Rental.com site; we will be proofreading the individual sub-pages over the next couple of days.
We certainly look forward to your visit and to your feedback!
Your Radio-Rental.com team
P.S. Our recommendation when it comes to advertising agencies and especially the areas of web design and development: Advertising Agency Berlin - the smart advertising agency in Berlin, Bossestraße 10, 10245 Berlin, phone 030 297735750 fax 030 29773575-29 e-mail:mail@werbeagentur-berlin.de web: www.werbeagentur-berlin.de

Download as PDF