Radio-Rental.com invests in Motorola repeaters
We are extending our repeater range and integrating 5 Motorola
repeaters into our rental park.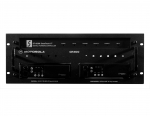 As of now, our rental park includes over 5 Motorola repeaters (2 channels each). Together with the ones already available we can now supply even large venues like the Messe Berlin with a very good radio signal covering the whole area.
Our Motorola repeaters have a maximum transmission power of 40 watts and are systems that really kick. We deliver them in an attractive 19" case. Installing and operating Motorola repeaters are very simple once they have already been programmed. We naturally do this for you before delivery.
Position the Motorola GR400 repeater as close as possible to the centre of the area to be covered.
(in the case of very large areas, positioning in a chain is also possible)
Connect the antenna
Hook up the electricity
Switch on the Repeater – done!
The Motorola GR400 repeaters are compatible with all the Motorola two-way radios we have on offer, e.g., the GP340 or the GP344, and currently (01/03/2011) cost 50.00 euros net to rent per day. Please note that repeater frequencies must be applied for from the Federal Network Agency, each time they are used, depending on the location. The current charge for this is a once-off payment of 130.00€ net (max. 30 days); we will gladly take on the application and handling.

Download as PDF